About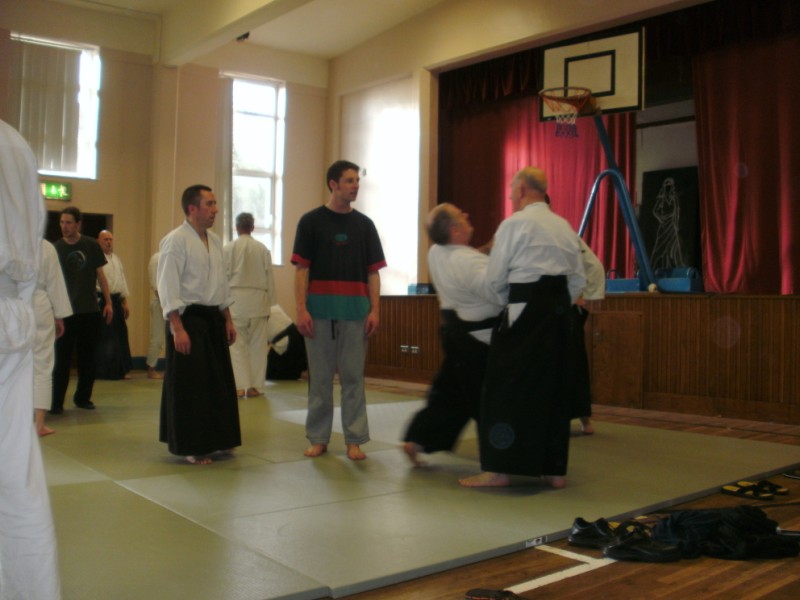 Circle of Harmony Aikido Dojo
Circle of Harmony Aikido was founded by Moylan Ryan and Keith O Donnell. Moylan began practicing Aikido in Dublin 93 as there were no Aikido Clubs in Limerick. That was primarily with Brendan Dowling. He also attended classes at John Roger's dojo on Pearse Street. In 1996, he traveled to Denver, Colorado to attend the Uchi-deshi program offered by Gaku Homma Sensei at Nippon Kan Dojo. In 97, he first met with Ruddock Sensei 6th dan in Dublin at one of his seminars. He later traveled to the Isle of Man to train with Alan at his own dojo. Alan Ruddock Sensei trained in the Hombu Dojo in the sixties. He was very privileged to be there with the founder and so many great teachers from Saito to Tohei to Kisshomaru Ueshiba and many more. Through Alan we have a direct link to Sensei and his teachings. Even today Alan follows what he saw in Japan all those years ago. A fascinating man and should you ever get the opportunity to attend one of his courses please do. Alan gives an insight into the very beginnings of Aikido.
In 97 the first Aikido classes in Limerick were began by Moylan and Keith at the University of Limerick and the Circle of Harmony was born. Supported by John Meldrum Sensei 3 dan from Cork Aikido Dojo who provided teaching in those early days. In 98 Moylan traveled to the United States to spend time training with Mary Heiny sensei 6th dan at Emerald city Aikido and with Bruce Bookman sensei 6th dan at Tenzan Aikido, both in Seattle. He later returned to the U.S to train with Alan Ruddock's old training partner from his early days in Japan, Robert Nadeau 7th dan Shihan. At that time he took the opportunity to make connections with the Californian Aikido Association and get to train with Danielle Smith and Cindy Hayashi sensei, both 6th dan.
On returning to Limerick Moylan and Keith would work on what was learned on away trips and slowly the club began to grow. Keith has an extensive background in various different arts which allowed him to grasp the new training very quickly and both practiced very hard to further Aikido in Limerick.
After a couple of years club moved to St Francis boxing club. Around this time Ken Waters joined. Ken had been studying karate for a number of years but like so many before him he found that there was something in this and devoted all his training to it. All these years later he still finds Aikido exhilarating and frustrating in equal measure. We all do!!!!!!!!!!!!!!!!!
Greg Larkin joined the dojo around this time too. Greg had trained in Dublin with John Rogers Sensei. Some time later Keith left to follow other paths and is still involved in teaching Martial Arts. In 2001 Mike Mc Namara joined, this is me by the way editing the site. GET OFF THE LINE Those four words are what got me to think and stay in Aikido. Had done several other Martial Arts, hard styles if you will although I was to and still am finding out that Aikido is just as hard as anything I have ever done. No teacher had ever so clearly told me to get off the line of attack before. This made so much sense to me and my search had ended and my journey began. A few months later, April 01 we moved to St John's National School. Stayed there for a five years. Due to renovation at the school we had to move in 2006. Turned out to be a blessing as our present location has a wooden floor. We also have ample parking.
Circle of Harmony Aikido Dojo
In April 2004 Moylan took up residence in the United States for personal and professional reasons and the Dojo passed to the very capable hands of Ken Waters Sensei. Since relocating to the U.S. Moylan has continued his study of Aikido, his main instructors being Saotome Shihan and Ikeda Sensei 7th dan. Moylan is presently one of the senior instructors at Arizona Aikido in Phoenix. He regularly travels during summer time to teach Aikido in Budapest, Hungary and at his home dojo in Ireland. During his visits, gradings in Ireland are conducted by Moylan Ryan Sensei, a member of Aikido Schools of Ueshiba and the Aikikai Foundation.
On one such trip in 2006 Moylan returned to hold gradings in the dojo. Ken graded and passed his Nidan. Mike graded and passed his Shodan and Moylan presented him with his certificate to teach. Pat O Brien also graded for his 1st que. In 2007 Moylan traveled to spend some time training in Japan, at Hombu dojo and at Shingu dojo with Anno sensei 8th dan. He also visited Tanabe, the birth place of Sensei and went to pay respect at his place of rest.
Moylan returned in 08 to hold more gradings after spending some time teaching in Hungary.
Greg Larkin graded and passed his Shodan at this time. Nigel Brommel also passed his 1st que so hopefully sometime in the near future Nigel will go on and grade for his Shodan.
Our Club continues to grow and with our regular trips to Cork or Galway to train with Ruddock Sensei we had the opportunity in 2007 to attend a seminar with Christian Tissier Shihan hosted by Cyril Lagrasta of Dublin Aikiki Aikido. It was a fantastic weekend and lots was learned and brought back to the dojo. Due to the success of that trip we followed it up with another visit to a master. This time it was Nov 08 and the Shihan in question was none other than Hirohito Saito. It was a fantastic weekend in Bath, England. Training was really intense but very enjoyable and we learned so much especially on weapons. On returning we passed on the knowledge to the rest of the dojo and we are still working on what we learned.
We also made a contact in Matt Hill Sensei who ran the seminar. This year we will bring Matt to us so all the members can benefit and we can further improve and grow in our practise. Matt is Saito Sensei's student and representative in the UK and travels regularly to Japan to train in Iwama as a uchi-deshi.

Circle of Harmony seeks to promote Aikido as a way of resolving our own internal conflicts, supporting self exploration and development through the never ending study of & To put it in simple terms Aikido practice is more than a martial art. It is in all of us. Every one's journey is different and unique. No two paths are the same nor should they be as no two people are the same. The few who choose to follow Aikido as we do reap the benefit in life as well as in the dojo. Contact Mike @ mikemcaikido@yahoo.ie for more details